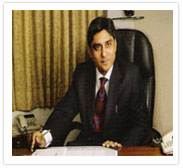 Ashok Gandhi, Managing Director



Mr.Ashok Gandhi is a dynamic, self-driven, seasoned entrepreneur and a general management professional with over 25 years of global experience in varied areas of Commodity Trade business. His sharp vision coupled with his positive thinking and brilliant and extra-ordinary ideas are the secrets behind his success. An appropriate decision maker in him has always seen success, having signed several Joint ventures and tie-ups for trading in Fertilizers, Fertilizer Raw Material Procurement and market development of Rock Phosphate, Chemicals, etc.

He firmly believes that "Rewards should be a by-product of Honesty and Hardwork".

Under his vision & able leadership, Growell has seen development in multi-magnitudes. No wonder, he is the driving force behind the successful function of his company, Growell Resources & Management Pvt. Ltd.